Member Spotlight: Rhonya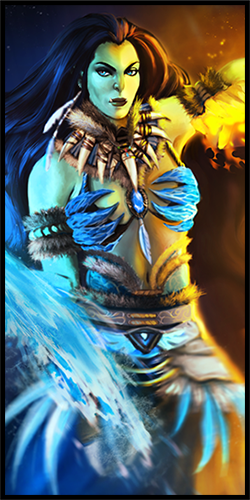 We've had some amazing members in our guild over the past few years and every now and then, they deserve a little extra time in the spotlights! Who the most obviously choice to deserve some special recognition might be, you ask? Rhonya Steelheart, AKA Kyrazha Throatrender, of course! Not only is she one of our most active and longest members, she's someone virtually everyone in the tribe knows! How well do you think you know her? Read on and perhaps you'll find out a few things you didn't know just yet!
So, how do you remember your first encounter with the tribe? How did it all kick off, and how did you first hear of us?
Well... that is an odd story! I once encountered some of them already when I was still part of a different guild, but I was pretty intimidated by the level of RP they showed, so I actually kept away a bit. More my own shyness, that. But a random encounter messed that up. One of the Forsaken once tried to kidnap Rhonya from Silvermoon, and as it happened, the tribe was there as well to aid with something on the Deadscar. The moment Rhonya got knocked out, Grek'thar walked around the corner and sounded the alarm, which resulted in a wild chase of Red Blades and Sin Belore trying to free me, in which they eventually succeeded. Grek'thar took it on himself to protect Rhonya from that moment on, and kind of... forced her (and me, OOCly...) to go on travel with the tribe! I officially joined as New Blood a few months later. So it was an accident, really.
Quite the detour! But eventually, something made you decide to join and stay in the end. You're among our longest lasting (and certainly active) members, after all! Anything in particular that made you stick?
Well, it was the RP actually that made me decide to join. Rhonya had quite the backstory which the orcs wouldn't approve of, so she kept that secret, until one of the officers ICly found out about it, and dragged it in front of mister Chieftain himself! I'm always one who just goes with the flow in RP, but I was really nervous actually there, I thought the tribe would kill Rhon. Quite the opposite happened, and they invited me to join as New Blood (also to keep an eye on her ICly.) So really, it was the members that tried to have me join for months already OOCly, and the direction the RP took, that pulled me in. It fit the RP, and it felt right!
So by the sound of it, you tend to go with the flow and let spontaneity have it free course. Does that mean Rhonya, your character, went through any changes from what you originally planned her out to be as well?
To be fair, the moment I made her, it was to humor a friend who told me to try make an orc and join the new guild she'd just joined as well. Rhonya started out as a Dark Shaman, and I had absolutely no idea about Orc RP or what I wanted to do with her, so I didn't even have any original plans to begin with! She fled her dark ways, joined the tribe and during that all kind of things happened to her due to other players, which I then turned into plots or things and dragged others in as well. So she went through loads of changes, but most I didn't plan. Which made it all the more fun!
I can imagine! Any particular events or plotlines or the like that are particularly memorable for you?
The rebellion stuck with me really, though not the events. It was more the random RP around the camps with all the other guilds that I really liked. It was also the time I introduced Kyrazha, my second orc and much an opposite to Rhonya. What I also think back on fondly was the time we actually went to get rid of Rhonya's inner demons, which consisted of four rituals in a week, with all the elders of the guild and a warlock. It was a big plotending for Rhonya after three years, and I was really happy that so many people wanted to help me with it and give it a nice ending. And the still continueing plot with some of the Forsaken people that still play, that were such a big part of Rhonya's past before she joined the tribe.
Sounds like a busy time! Other than all the RP, do you feel there's anything else that all your time in WoW or the guild in particular was good for?
It's been a very busy few years, indeed. And OOCly getting to know all the people over the years has really been great. I held a few guildmeets as well, got to know people in real life, made some really good friends. I'm really surprised actually how close this guild has become in terms of wanting to help one another, cheer each other up, even pay for others in the case of our transfer from DB to AD. PvP with people while in a Skype call, laughing our asses off while trying to kill Alliance and failing horribly. Watching Blizzcon together and cheering at all the news. The new expansions coming and all staying awake until it launched, trying to get through the lag and actually do a quest or two. And of course it's a huge plus my husband also plays WoW and RPs, and is in the same guild, which means that we can enjoy each others company and play together online as well!
Got any tips for any fellow RPers out there, that you think might help make them enjoy the game and its RP and interactions just as much – and as long – as you have?
Suppose the most important thing I could say, don't mix OOC and IC. Drama can be a great motivator for plot and things, but keep talking OOCly to the other person and just have fun instead of getting mad or annoyed. We all play this game to have fun after all! Don't wait for RP to come to you, take some initiative and make it happen, much more enjoyable for all parties involved. Get to know people, make some friends, create some great stories together!