Member Spotlight: Kogra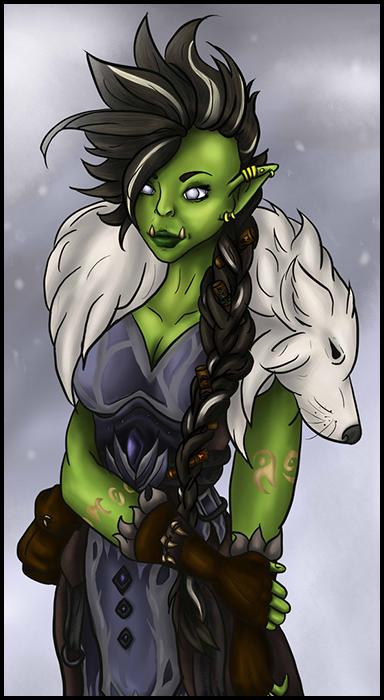 This month in the member spotlight, we have Kogra Windwatcher! As Alpha of the Gosh'kar, she's slowly been working her way up in the ranks and might soon even find herself in the venerable position of the tribe's Thur'ruk! As a result, we have three orcs in a row belonging to the Path of Wisdom that are being featured in the Member Spotlight. Perhaps the path is on to something, with its consistently active and reliable members? Read on, however, and you'll find that Kogra has plenty of different experiences from both Rhonya and Srelok as both a person as well as an orc!
To start off, what can you tell us about your first encounter with the guild? Any particular first memories that you can recall?
My first encounter with the guild I cannot truly recall. This must've been somewhere during Cataclysm but that was only on an OOC basis due to the ganking going on and there was this pact going on between the guilds to help each other out.
My first RP experience with people from the guild, however, would be me having to RP a sibling of Grogona due to her venturing to Nagrand for some journey. The true intent of that journey I cannot recall. All I remember was that it was some extremely amusing RP involving several members of the guild that were asked to act according to a script that was written down. I do not know whether it was the fact that we were also on Skype at the time, or the fact that everything was planned already, but the whole session spiraled out of control with us laughing about it on Skype.
Several years later some of the guild members decided to venture to the Netherlands and attend Castlefest. With me knowing Rhonya already, she dragged me into you crazy lot and forced me to socialize, the terror! But all jokes aside, I got to meet several people on that joyous occasion and they piqued my interest to join ORB and so I did.
Sounds like we partially have Rhonya and Grogona to thank for your present-day activity then! Are there any other particular members that you feel contributed to you staying for as long as you have so far? Any other particularly memorable plot-lines or campaigns, perhaps?
I think that Rhonya and Grogona, and the people that I met on Castlefest which reveals another big name for the guild namely Sadok, are the people to blame that you have to suffer from my presence initially. But if it were not for the community itself that is the guild, I would have been long gone. I don't think that there are certain people that have me stay in the guild but the entirety of the guild instead.
As for memorable moments or plot-lines, I think that the one that has made the most impact on me would be the assault on the Dark Portal. I think that it was a glorious time RP-wise due to the sacrifice that the tribe was about to make for the greater good. Of course they did not perish during their suicidal assault, which kind of contradicts the purpose, but I still think that this has been one of the more memorable moments within the tribe.
A close second would be the plot that we had together with the Hand of Agony in the Southern Barrens with the dreaded Razorfen Downs Syndrome. A lovely campaign with a lot of foreshadowing and the cooperation between orcs and their forsaken allies.
Speaking of campaigns, it's no secret that you've recently begun to take more of a pro-active role within the guild in organising a few events here and there and helping the officer team. How do you see your character fit into all this? What is it that moulded Kogra from the orc that she was since the day she joined the tribe, and in what ways?
Character progression is what makes RP fun and since the first day I've RPed Kogra, she has gone through a lot of progression. When first she joined she was very timid and unsure of what she could do herself. This changed once she started to get to know more of the tribe's people. The insecurity that she had diminished over time as she found that more people started to believe in her abilities. And now she is the Alpha of the Gosh'kar.
At this moment she realises that many of her superiors have stepped down and gone missing and has to step up. Especially since she is basically the right hand of Srelok at this moment. She tries to live up to that position by taking the lead in some of the tribal matters, but is not always as confident as she should be.
On the topic of character progression, do you have any advice for any fellow roleplayers?
Never make too many plans about your character. I personally find it more entertaining to see how certain things develop themselves. I also think that you have a more natural flow of development then.
Often enough I also find that things that happen in RP are applicable in real life. So I suppose that you should also take lessons from the things that you encounter in the digital world and put those to good use in the other world (not Azeroth, nor Draenor). It is how I started to combat my social anxiety and look where I am now. In a way, I think all characters are a reflection of the person behind them in some way or the other. Kogra is no different. There are quite a few similarities, albeit some are a slight exaggeration from mine such as the selflessness, patience, and secrets that have yet to be revealed.
Secrets? So Kogra's story is still unfinished in your mind, then?
I personally believe that the story is finished once the final page has been written. This page could contain the epilogue of the adventure, the death of a character, or sometimes even what he or she brings from beyond the veil of death. Kogra's story is not over, nor do I think that it will come soon but I could be mistaken in that.
With Legion coming up, we will just have to see, no? With hell breaking loose (again) and a demon invasion upon us (again), who knows what we may find? With a new area to explore I am sure that we will find enough things to do and new plots to discover, be these guild wide or personal.